Elevate Your Style with Stunning Silver Choker Necklaces this Season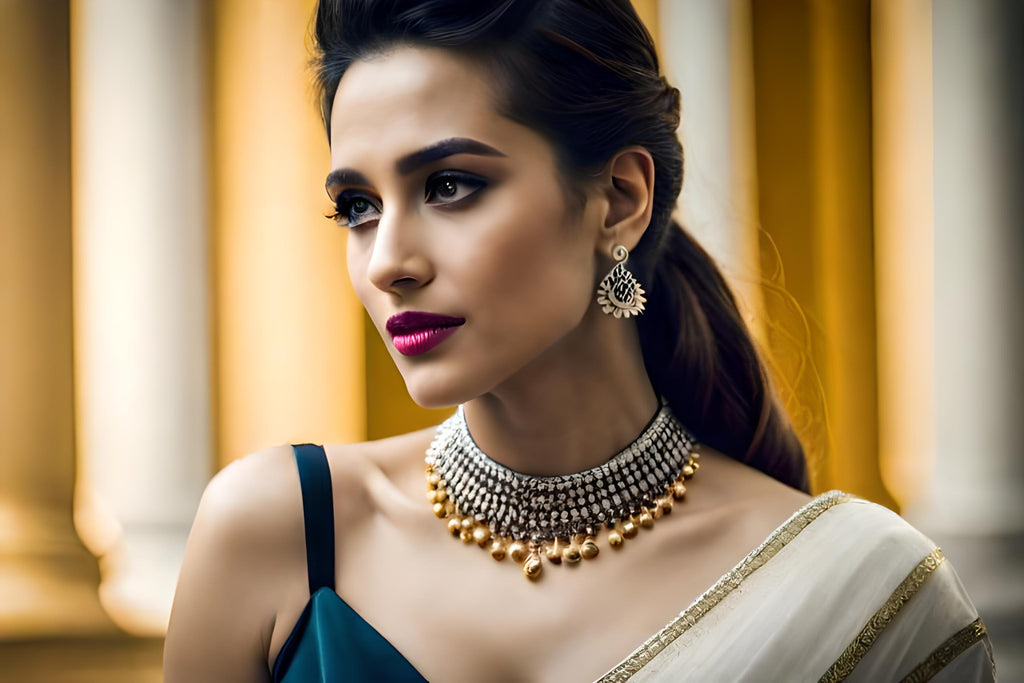 Adorning the neck with a choker necklace is one of the hottest jewelry trends right now. From runways to red carpets, these snug-fitting stunners are taking center stage. Chokers are an elegant and versatile accessory that can instantly transform any outfit. They lend a touch of sophistication, bring attention to the face, and make a bold fashion statement.

This season, silver choker necklaces are especially on-trend. Their lustrous sheen and intricate detailing make them an effortless way to elevate your style. Whether you opt for an intricate handcrafted design or modern minimalist look, silver chokers are a must-have addition to your jewelry collection.
In this blog, we'll explore why silver choker necklaces are having a major moment right now along with tips for styling them. We'll also showcase a breathtaking silver choker set featuring cow and peacock motifs that is perfect for the modern Indian woman. Get ready to discover how this standout necklace can take your look to the next level!

Why Silver Choker Necklaces are Trending
Silver jewelry has surged in popularity over the past few years. Unlike gold, silver offers a cooler, sleeker look that complements both casual everyday wear and dressy occasions. Silver also pairs beautifully with a wide range of outfits from blues and greens to black and neutrals.
When crafted into choker necklaces, silver is ultra-versatile and can suit any personal style. From boho and minimalist to traditional and glamorous, silver chokers are a flattering choice for women of all ages. Here are some of the reasons these necklaces are having a major fashion moment:
Sleek and modern aesthetic
- Silver has a polished, contemporary look compared to warmer toned gold. The sleekness of a silver choker feels very fresh and current.
Increased interest in artisanal, handcrafted jewelry
- Intricately made silver chokers reflect high quality craftsmanship.
Versatility to dress up or down
- Silver chokers seamlessly transition from day to night. They beautifully accessorize both casual relaxed outfits and elegant evening wear.
Complements Indian skin tones
- The cooler tone of silver flatters and pops against warm Indian complexions.
Trending across runways and red carpets
- From New York to Paris, fashion models and celebrities are flaunting silver choker necklaces.
Vintage inspiration
- Silvers nod to jewelry styles of past eras like the 90s, 60s and 20s. Retro chokers are back with a modern twist.
Focus on neck and face
- Chokers frame the face and highlight delicate necklines. They are an instant confidence boost.
How to Style Silver Choker Necklaces
One of the best aspects of silver chokers is their versatility. They can be dressed up or down seamlessly. When styling a silver choker, consider your personal style and occasion. Here are some tips:
For a Minimalist Look
Pair a simple thin silver choker with a v-neck tee or blouse. This is perfect for running errands or casual weekends. Add skinny jeans, sandals and a cross-body bag.

For the Office or Day Events
Layer a silver choker over a conservative dress or formal blouse. Finish with a blazer, kitten heels and silver earrings. The choker injects style while keeping the look professional.

Date Nights Call for something Sultry.
Try a silver choker with an off-the-shoulder midi dress or crop top and skirt combo. Add strappy heels and a clutch for dinner or dancing.

For Traditional Occasions
QAdorn a saree or lehenga with an ornate handcrafted silver choker. This elevates bridal, festive and wedding guest attire beautifully.

To make a Glittering Statement for a Night Out
Choose a silver choker with sparkling crystals. Pair with a little black dress, bold red lip and metallic heels.

For BOHO Flair
Layer multiple long silver pendants over a tunic or peasant top. Complete the look with skinny jeans, wedges and funky accessories.
The styling possibilities are endless! From adding polish to office wear to making date nights sizzle, a silver choker always impresses.
Stunning Silver Choker Set with Cow and Peacock Motifs for Modern Indian Women
Now let's shine the spotlight on a spectacular handcrafted silver choker necklace set designed with modern Indian women in mind:
The Dual-Tone German Silver Choker Set from Tiaratrendz features two glorious chokers dripping with intricate cow and peacock motifs. This showstopping set provides incredible artistry and versatility.
Here are the unforgettable details of this handcrafted masterpiece:
The first choker in the set features a broad collar-style band made from German silver - an alloy admired for its brilliance and resistance to tarnishing. Graceful peacock motifs adorn the center of the choker in a dual-tone gold and silver finish. Interspersed between are round lime-green Czech glass accents.

Four rows of dangling two-toned cow motifs hang below the base, elevating the neckline with movement and shine. Tiny pearls separate each row of charms for added elegance. The choker measures 18 inches and fastens securely with a lobster claw clasp.

The second choker has a slimmer collar-style silver band with a singular row of lime-green Czech glass stones sprinkled throughout. Delicate two-toned cow charms dangle below in four tiers just like the first choker. Coming in at 16 inches, this choker sits higher on the neck for a more snug and sleek look. It also fastens with a durable lobster claw clasp.
Both chokers are made from anti-allergic and nickel-free German silver for sensitive skin. The modern peacock and cow motifs symbolize luck and prosperity in Indian culture. When worn together or separately, this versatile set beautifully complements both western and Indian ethnic attire.

For occasions like engagements, weddings, festivals, or temple visits, pair these chokers with your finest sarees, anarkalis, or lehengas. For everyday elegant style, adorn tunics, dresses or blouses with these statement silver stunners. They also gracefully glam up gowns for formal events.

The craftsmanship of these chokers is simply unparalleled. Tiaratrendz focuses on celebrating the diverse arts, culture, and history of Indian jewelry traditions. Each piece is meticulously handcrafted by skilled artisans to bring quality and uniqueness to the modern woman's wardrobe. With its combination of old world motifs and contemporary silver design, this regal choker set is the ultimate way to express your personal flair.

Why the Dual-Tone German Silver Choker Set is an Essential Jewelry Purchase:
Handcrafted quality and intricate detailing that makes a statement
Versatile 2-piece set allows you to switch up your look
Luxurious, luminescent German silver for brilliance that lasts
Lustrous dual-tone metal and colorful glass stone accents
Symbolic cow and peacock motifs deeply rooted in Indian culture
Sleek collar-style bands flatter and elongate the neck
Equally perfect for traditional and modern fashion aesthetics
Antique inspiration meets current metallic jewelry trends
Nickel-free metal won't irritate sensitive skin
Interesting storytelling element that celebrates Indian heritage
Elevates both casual and formal attire flawlessly
Provides excellent cost per wear value
Makes a meaningful addition to your heirloom jewelry collection
Take your jewelry collection to exciting new heights this season with the showstopping Dual-Tone German Silver Choker Set. The superior craftsmanship, cultural motifs, and flexible 2-piece design make these conversational chokers a smart investment. Express your dynamic Indian spirit by adding these statement necklaces to your jewelry box. Their ability to beautifully accentuate both western and ethnic fashions is unmatched. Stay on trend while honoring tradition every time you adorn these chokers!

Conclusion:

Silver chokers are having a major moment in fashion right now. From minimalist and sleek to bold and ornate, they provide the perfect finishing touch to elevate your style. Allow your inner goddess to shine by adorning the Dual-Tone German Silver Choker Set steeped in rich Indian culture. Tiaratrendz has truly outdone themselves with the meticulous craftsmanship of these regal designs. Wear these meaningful necklaces with pride and confidence. Never underestimate the transformative power of donning a spectacular choker!

What are your favorite tips for styling choker necklaces? Do you prefer a minimalist aesthetic or bold standout looks? Share your thoughts with us in the comments!


#SilverJewelry #GermanSilver #ChokerNecklace #StatementJewelry #NecklaceGoals #JewelryStyling #JewelryOfIndia #HandcraftedJewelry #EthnicJewelry #IndianJewelry #JewelryBlogger #JewelryTrends #BloggerStyle #IndianBlogger #Fashionista #StyleInspo #TraditionMeetsModern #JewelryForEveryOccasion #ElevateYourWardrobe #ExpressYourself #StayOnTrend